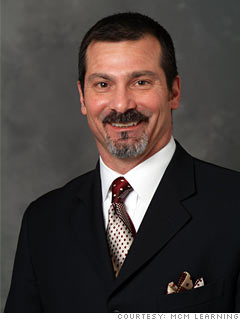 MCM Learning
Warren, Mich.
Ned Piccinini is pulling for the Big Three to make a comeback. General Motors is one of the main clients for MCM Learning, a company that develops workplace training programs.
"If they sneeze, we certainly catch the cold," says Piccinini, who opened MCM in 1991.
The economy's problems began affecting MCM late last year. While the company was on track for record revenue, sales dropped suddenly in September. The company's annual sales ended up down 12% compared to 2007.
About 80% of MCM's business is auto-related, with GM comprising the bulk of that work. As automotive clients have tightened their belts throughout the last five years, MCM has been seeking work in the health care and military sectors. The expansion is helping - Piccinini says new health care clients helped bolster last year's sales despite the downturn.
MCM is ripe for diversification, Piccinini believes, since employee training is something that occurs in every industry.
"There is a need for what we do," says Piccinini, whose company has 10 employees.
But MCM hasn't given up on its automotive customers. Piccinini is committed to finding ways to keep working with GM and other auto-related companies, such as by lowering the cost of MCM's training programs.
"We're not going to bail on our clients," Piccinini says. "We're going to try to do things to help them."
While the automotive downturn has been tough to watch and deal with, Piccinini says he's optimistic about the future because the downturn will force many companies, such as his, to rethink their strategies and become stronger.
"Michigan has an opportunity to reinvent itself," Piccinini says.

NEXT: Growing by banding together