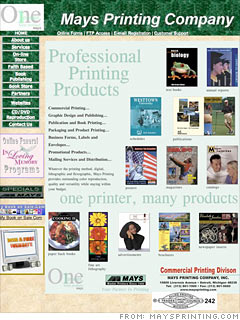 Mays Printing Co.
Detroit
James Mays has seen a cross-section of every local industry struggling with the domestic auto crisis.
Mays Printing Co. was founded 63 years ago by Mays' father, J. Caulton Mays. The company has traditionally done printing for auto suppliers, auto dealers, advertising agencies and an array of other businesses that directly and indirectly connected to the Detroit Big Three - all of which are now placing fewer orders.
Even more traditional clients, such as funeral homes and churches, are cutting back on printing. Mays believes that's because layoffs have caused people to lose life insurance policies that previously helped pay for printed funeral programs, while strapped churchgoers cut back on donations that support projects such as publishing church bulletins.
The decrease in printing orders has caused sales at Mays Printing to fall 40% or 50% over the last five years, Mays says. Today, his company generates average annual sales of $1.5 million to $2 million.
"It's a ripple effect all of the way down," says Mays, who has 20 employees.
Rather than continuing to target established companies that are struggling to make ends meet, Mays Printing has decided to market its services to people who are starting their own new businesses. It's offering discounts on business cards and other promotional materials - 5,000 full-color flyers can now be had for $150.
Mays Printing also is starting to do Web design work to help supplement its printing income. In the last two years, the company hired two Web designers and invested $30,000 in servers and equipment that to help it take on new clients. So far, the company has created Web pages for travel agents, nonprofit organizations and other small to mid-size businesses.
"We're creating new opportunities," Mays says. "You have to be able to adapt to the marketplace that you're already in."

More galleries