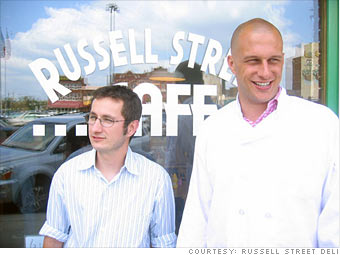 Russell Street Deli owners owners Jason Murphy and Ben Hall
Russell Street Deli
Detroit
Founded 20 years ago, Detroit's Russell Street Deli was acquired by new owners Jason Murphy and Ben Hall 18 months ago. In that time, the pair have pulled off a nearly impossible trick: They've increased sales. Come to Detroit's Eastern Market on a Saturday morning, and you'll often see people lined up outside the door to eat at Russell Street Deli.
"Its grit and its rawness is attractive to people," Murphy says.
Before Murphy and Ben Hall bought the deli, its annual sales averaged around $650,000, according to Murphy. Today, the deli generates $750,000 annually, and Murphy expects to reach $1 million by 2010.
To increase sales, the restaurant began offering more vegan and vegetarian soups and sandwiches, to tap into a larger market. It also, in late January, began opening for breakfast on weekdays
"Our feeling is we're here, we're working," Murphy said. "We might as well be open to the public."
While growing their revenue, Murphy and Hall are also boosting their profits by stripping out every ounce of unnecessary cost. They sold a nearby pizzeria space, cutting the deli's rent in half. Selling the pizzeria reduced Russell Street's utility costs, and Murphy and Hall watch out for other ways to trim: Each night, they unplug all of the deli's appliances. Russell Street's electricity bill has dropped from $1,700 a month to about $700.
The deli tries to focus on foods with higher profit margins. Pulled pork sandwiches are relatively cheap to make, but are a hit with customers and often featured as a special at Russell Street. Meanwhile, the restaurant has begun offering more vegan and vegetarian soups and sandwiches, to tap into a larger market.
Murphy is confident that Detroit will pull through the auto crisis. While the latest sales swoon has things looking grim for the city's main industry, Detroit has been weathering auto cutbacks for decades now.
"I don't see the whole thing crumbling down," he says.

NEXT: Priority #1: Excellent customer service