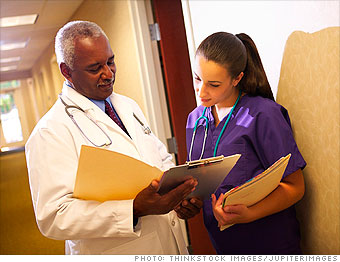 What he said
: "Under my plan, if you're a small business that wants to provide health care to your employees, we'll give you a tax credit to make it affordable. My plan won't impose any new burdens on small businesses. Instead, we'll help them not just create new jobs, but good jobs -- jobs with health care; jobs that stay right here in America; the kind of jobs we need in our communities."
- July 13, 2008, San Diego
A follow-up written report outlining that health care proposal and other small business initiatives stated that "The Obama Small Business Health Tax Credit will provide a refundable credit of up to 50% on premiums paid by small businesses on behalf of their employees." The report added that the system would work alongside other initiatives including a national health exchange.
What happened: In mid-July House Democrats unveiled a health care program that, among many other things, could penalize small businesses if they choose not to provide their employees with health insurance.
Today, multiple versions of the bill are swirling around Congress, and the legislation will continue to be debated for some time -- the Senate will vote on its version following the August recess. But there are two measures on the table that could have a big impact on small businesses. First, the House proposes that any company with payroll of $500,000 or more would have to pay a penalty for failing to provide insurance. The maximum penalty, for companies with payrolls exceeding $750,000, would be equal to 8% of their payroll. Those payments would help fund a national health insurance exchange, which would offer coverage to individuals and small companies.
The second House measure proposes a health insurance pool for small businesses that would let small firms bargain collectively for health insurance. But historically, these pools haven't worked, because low-risk businesses tend to find better-priced insurance alternatives and opt out of the pool, leaving high-risk businesses behind.
Another option for small businesses, according to Obama, will be to participate in a government-run insurance program, financed through taxes, which has yet to be established.
As various proposals are being debated, most small business owners fear that any change in health care policy will hike their taxes. However, Obama continues to assure business owners that providing health insurance to employees will afford them tax credits that would outweigh any increases associated with the reform.

NEXT: Taxes