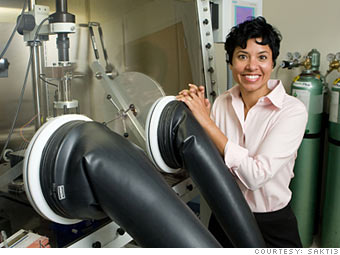 Ann Marie Sastry, CEO of Sakti3
Sakti3
Ann Arbor
Hires: Business staff and engineers with advanced degrees
Now might seem an odd time to launch an auto industry company. But Ann Marie Sastry, CEO of lithium-ion battery startup Sakti3, sees opportunity in the industry's ongoing shakeout.
"It's a great time to really think about moving the needle," she says.
Sakti3 is working on advanced battery technology that it believes will allow cars to run for more than 100 miles per gallon of gasoline.
With the Big Three looking to reinvigorate their troubled businesses, Sastry thinks her batteries can help Detroit automakers be competitive as technology for electric and hybrid vehicles moves forward.
Sakti3 spun off from the University of Michigan two years ago after Sastry and a group of researchers successfully built a new lithium-ion battery prototype. The group's plans to commercialize their technology got a $2 million vote of confidence from Khosla Ventures, a venture capital firm in Menlo Park, Calif., that backs clean-tech firms. The state of Michigan is also investing in Satki3's vision: It awarded the company a $3 million grant, plus tax credits worth $2.3 million over 10 years.
The funding has allowed Sakti3 to hire a staff of about 20 employees. Sastry believes commercialization of Sakti3's technology will happen by late next year.
Sastry, who is a University of Michigan professor, says Ann Arbor isn't just a location of convenience. She can't see running her company anywhere else: She estimates that 80% of the world's automotive R&D is located within 60 miles of Detroit.
"There is a wealth of knowledge and understanding of vehicles, and a wealth of people who store this knowledge," Sastry says. "We wanted to be near our potential customers and collaborators."
What about the challenges of starting a company in the metro Detroit area? Sastry believes the biggest problems she confronts as an entrepreneur, such as a global recession and tight credit markets, are universal.
"I don't think we face any challenges that are substantially different than anyone who is starting a business anywhere," Sastry says.

NEXT: A dot-com success