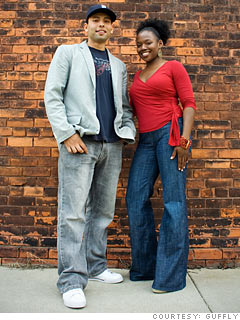 Guffly.com founders Jordan Contreras and Chanell Scott
Guffly.com
Detroit
Hires: Not hiring yet, but plans to bring on staff in marketing and Web development/design
Guffly.com, an Internet startup in Detroit's midtown, helps style-conscious shoppers stay fashionable while going green.
The online retailer offers home, pet, clothing, office and personal accessories that are eco-friendly or fair trade. Past products have included handbags made from recycled seat belts, pendants made from dominoes and Scrabble tiles, and earrings crafted from recycled sterling silver.
"We wanted to make it easy for people to find things that you can feel good about buying, but not feel like you're compromising your style or convenience," says Chief Guffly "Love Distributor" (aka, CEO) Chanell Scott, who began selling products on Guffly in August.
The company got its start when Scott and Guffly partner Jordan Contreras entered Bizdom U. in 2007. Bizdom is a free, Detroit-based entrepreneurial institute created by Dan Gilbert, founder of Quicken Loans and an active local business booster.
Students who enter Bizdom develop business plans for companies to be based in Detroit, and have a chance to receive backing from investors. Scott says she and Contreras received $300,000 in initial funding, as well as a wealth of entrepreneurial know-how to help them manage Guffly's fledgling business. The company now has four employees and a smattering of interns.
Guffly receives support from Bizdom and TechTown, the business incubator where the company is located. Other Detroit entrepreneurs have helped out with tips and advice.
"Detroiters are overwhelmingly giving of their time and energy," Scott says. "It's been great for us to have a community that's so receptive. People are excited to have new businesses here."
That support, along with low overhead costs and access to the area's creative and tech-savvy talent, is why Scott envisions a future for Guffly in Detroit. In turn, she hopes that Guffly can play a part in revitalizing Detroit's economy as the company continues to expand.
"The people who live and work here need places to visit and places to work," Scott says. "I'm seeing more proof that Detroit can support local businesses."

NEXT: Building smart robots