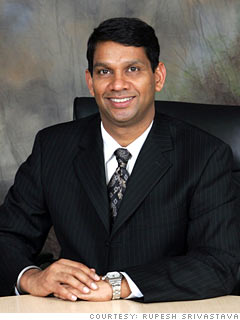 Rupesh Srivastava, founder of Youngsoft and H2H Solutions
Youngsoft and H2H Solutions
Wixom, Mich.
Hires: Programmers, analysts, project managers, and training personnel who teach doctors how to use the companies' products
Health care is a hot political topic this year -- and for Rupesh Srivastava, it's a one that could fuel expansion for his two metro Detroit companies.
Srivastava founded Youngsoft, an IT services company, in 1996 and grew the company by securing such clients as Ann Arbor-based Domino's Pizza. In 2001, Srivastava used Youngsoft as a launch pad to start H2H Solutions, a company that makes specialized software for the health care industry, including products for e-prescriptions and medical-privacy compliance.
By shifting their focus to health care, Youngsoft and H2H Solutions were able to grow to nearly 200 employees and about $20 million in combined revenue last year. "We have put ourselves in a strong position by getting into health care at the right time," Srivastava says.
Srivastava expects that growth to continue as the health-care debate heats up and more companies look for ways to streamline costs. He plans to hire about 75 new workers by the end of 2010 and aims to have 500 employees at his two companies in the next five years.
Srivastava's companies have fielded offers to relocate to other states and countries, and he admits that some of the tax breaks and other incentives have been tempting. But so far, metro Detroit's benefits are winning out.
Detroit's talent pool has been advantageous: Srivastava estimates 80% of his companies' new hires in the last two years previously worked in the automotive industry. And a low cost of living allows Srivastava's businesses to have lower overhead than if they were located in other major cities.
Srivastava thinks those benefits will encourage more non-automotive growth in the area. "I do believe Michigan can and will turn around," he says.

More galleries