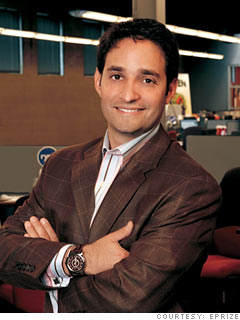 Josh Linkner, CEO of ePrize
Pleasant Ridge, Mich.
Hires: Business development, account management, project management, legal, creative, software engineering and customer service
If you've participated in Coca-Cola's "My Coke Rewards" program, then you're looking at some of the latest work from ePrize.
An online promotions company founded in 1999, ePrize has worked with some of the top national consumer brands, including Disney, Dell, Johnson & Johnson and Yahoo.
The company has about 350 employees nationwide, with 250 of them located in Michigan. Sales reached $50 million in 2008, a 27% increase from 2007.
Founder and CEO Josh Linkner originally launched ePrize in metro Detroit because he is from the area. He's been courted to move ePrize's headquarters to other states, but Linkner says he's stayed put because in Detroit, his company gets to be a "big fish in a little pond."
While Michigan's quality of life and low cost of living played into ePrize's decision to stay, Linkner says his company has particularly benefited from the region's educated workforce and a lack of competition for those employees.
"There's a lot of talent here, and we've been able to attract the best and the brightest," Linker says.
Having few local competitors is a boon, but Linkner would like to see Detroit's business leaders work more aggressively to attract and retain technology companies.
"Think about the impact that Microsoft had to the Seattle region," Linkner says. "If we can be the breeding ground for the next Microsoft, that can create a wealth of opportunity."

NEXT: Click here for eco-fashion