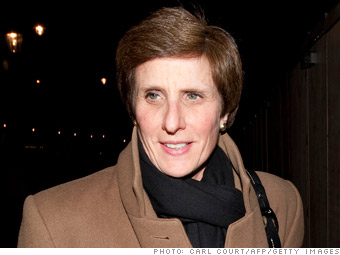 Title: Chairman and CEO
Company: Kraft Foods
Age: 58
Compensation: $19.3 million
Irene Rosenfeld created a stir last year when she pushed ahead with Kraft's plan to buy British candymaker Cadbury for $19.5 billion -- against the wishes of Warren Buffett, Kraft's largest shareholder. While Buffett sold some stock following the move, plenty of others bought, and Kraft's shares rose 15.9% last year, easily outpacing the S&P 500.
Despite that victory, Rosenfeld's pay dropped last year and her bonus was nearly halved, to $2.13 million. The reason? Kraft didn't meet certain targets for revenue and operating income. Don't feel too bad, though. Rosenfeld, who has been at the helm since 2006, took home a whopping $26.3 million in 2009.
Even sweeter: Since the Cadbury acquisition, Kraft, the nation's largest food manufacturer with iconic brands such as Oscar Mayer, Cheez Whiz, and Planters nuts, is now the world's largest confectioner.
NEXT: Lynn L. Elsenhans
Last updated May 05 2011: 3:07 PM ET