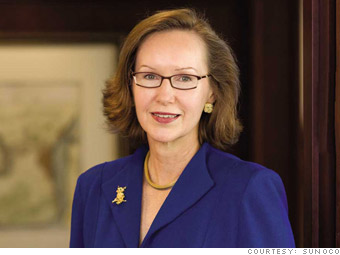 Title: Chairman, CEO and President
Company: Sunoco
Age: 54
Compensation: $11.7 million
When Lynn Elsenhans joined Sunoco in 2008, fuel demand was sinking. She responded by making Sunoco the first major firm to take steps to close an oil refinery -- and then doubled down, moving to get rid of two more. The closures turned out to be prescient, although some investors have said they're nervous about what it means for Sunoco's long-term strategy.
The former Shell exec has emphasized other, more stable, areas of oil production. Elsenhans has focused on SunCoke Energy, Sunoco's profitable division that makes fuel, or coke, for steelmakers. SunCoke, led by newly appointed Fritz Henderson, formerly of General Motors, is in the process of being spun off, a move that could bring Sunoco a sizable windfall.
Elsenhans was the first woman to lead a major oil company, and she continues to be the only woman on the Fortune 500 list in charge of an energy firm.
NEXT: Ellen J. Kullman
Last updated May 05 2011: 3:07 PM ET