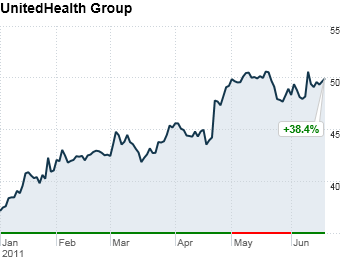 YTD performance: 38%
Market cap: $54.6 billion
Shareholders of UnitedHealth (UNH) reaped the rewards this year from the managed care company's strong profits and upbeat guidance.
UnitedHealth raised its full-year guidance in late April to $3.95 to $4.05 a share, well ahead of analysts' forecasts. The company also increased its quarterly dividend last month to 16.25 cents a share, from 12.5 cents a share.
UnitedHealth's performance is also tied to what has been broad investor interest in healthcare stocks this year as a defensive play against what has been a recently downward-trending market.