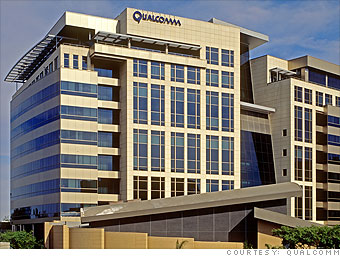 P/E: 16
EPS growth: 16%
If Apple is the sassy, outgoing Homecoming Queen who every guy wants to date, then Qualcomm is her shy and unassuming twin sister -- that pays a dividend!
The San Diego-based company enjoys a dominant role in the world of mobile technology. From smartphones to tablets, Qualcomm provides the chipsets for mobile devices made by Apple, Samsung, HTC and Nokia, as well as for Microsoft's Windows 8 devices. Qualcomm also rakes in a good chunk of its revenue through licensing fees and royalties for its wireless technology patents.
In addition to reporting a blowout quarter earlier this month, Qualcomm also rewarded shareholders with $362 million in cash dividends and spent $99 million to buy back 2 million shares.
As smartphones and tablets grow in popularity around the world, helped by the expansion of 3G technology in emerging markets like China and Latin America, Qualcomm will continue to benefit, analysts say. And the company boasts a massive cash balance that should allow it to invest in new technologies in the years ahead.