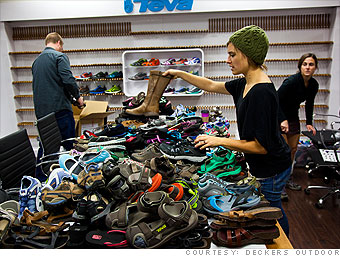 P/E: 15
EPS growth: 18%
If you don't have a loved one to help keep you warm and cozy this year, try a pair of Uggs. While the shoes are criticized for being a curious statement, shoemaker Deckers Outdoor has managed to turn Ugg into a ubiquitous, billion-dollar brand.
The company is continuing to evolve and build its winning footwear line into a lifestyle brand that will include men's, women's and kids outerwear, as well as handbags, which should help double Deckers' revenue by 2015.
The Santa Barbara-based company, which is also behind the Teva brand, expects to report a 22% jump earnings and 33% rise in sales when it reports 2011 results later this month. In 2012, the company will have to cope with a possible 40% increase in sheepskin prices, but it expects that to translate to a manageable 10% hike in costs.
Deckers' stock hit an all-time high above $118 in October, but analysts at Barclays Capital expect shares will soar to a new record of $125, up about 45% from its current price.