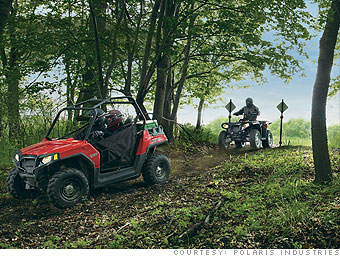 P/E: 17
EPS growth: 15%
Sure, a horse-drawn carriage ride is romantic, but you could also turn it up a notch with one of Polaris Industries' ATVs -- or at least some of the company's stock. Shares have nearly doubled during the past year, and are up more than 20% in 2012. And, at just 17 times earnings estimates, analysts say the stock is still fairly cheap.
If that's not sweet enough, the Medina, Minn.-based company also raised its quarterly dividend by a whopping 64% earlier this month, marking the 17th straight year of dividend increases and the biggest boost since 1995.
The company can be a bit coy with its conservative forecasts, but investors have grown accustomed to that and don't punish the stock. That's because Polaris has booked double-digit profit growth for the past nine quarters and consistently blows past estimates.
Sales are rising in every part of the company's business, which includes snowmobiles, motorcycles, ATVs and jet skis. Polaris isn't just grabbing market share from competitors in North America. Sales in Europe, China and India are also on the rise.