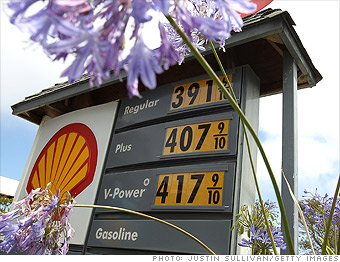 Shelling out extra cash for $4 or even $5 a gallon is infuriating. To make up for some of that pain, earn some extra dough by investing in stocks and funds that benefit from soaring oil and gas prices.
Investors are already capitalizing on the run-up, plowing more than $666 million into the Energy Select Sector SPDR ETF (XLE) during the last two weeks -- more than any other ETF -- according to IndexUniverse. United States Oil (USO), which tracks crude oil futures, has also raked in a significant amount.
Oil prices surged 7% in February, sending gas prices up almost 29 cents a gallon, or more than 8%, for the month. And experts think that momentum is far from over.
"There's a pretty good backdrop for energy prices to stay high, and keep rising," said Bob Carey, Chief Investment Officer at First Trust Advisors.
On one hand, escalating tensions in the Persian Gulf, particularly Iran's ongoing threat to shut down the Strait of Hormuz, is boosting fears of oil supply shortages, causing prices to spike.
On the other hand, an improving economy is lifting the energy demand outlook, which is also pushing prices higher.
Here are some investment options to help relieve some of that residual pain at the pump.