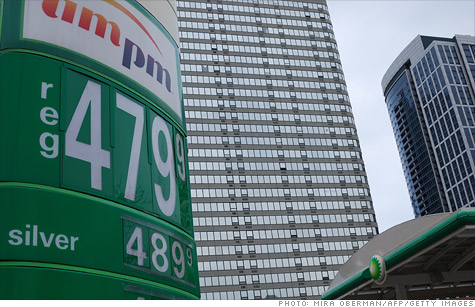 Iran, demand, speculators and potential problems at refineries are all responsible for the nearly 50 cent rise in gas prices over the last two months.
NEW YORK (CNNMoney) -- A combination of trouble with Iran, a recovering global economy, investor interest and a potential problem at refineries are all responsible for the recent spike in gasoline prices, experts say.
The biggest reason gasoline prices are rising is because the cost of oil is rising -- and oil accounts for 70% of the cost of a gallon of gasoline.
Brent oil, a leading worldwide benchmark, has risen 52 cents a gallon in the last two months, according to the American Petroleum Institute. That mirrors the rise in average U.S. gasoline prices, which surged 47 cents a gallon over the same time period, according to AAA.
And why is oil rising?
Iran: "The primary driver is concern over Iran," said Brian Milne, refined fuels editor at Telvent DTN, an information provider, "and the ramifications if Western countries move more forcefully against it."
Iran, which is locked in a bitter dispute with the West over its nuclear program, exports 2.2 million barrels of oil a day, mostly to Asia.
More importantly, Iran sits astride the Narrow Strait of Hormuz, through which one fifth of all the world's oil production passes.
While the flow of oil from Iran through the Strait hasn't been disrupted yet, despite sanctions from Europe and the U.S., the concern is an attack or tighter sanctions could crimp that supply.
Growing demand: The worldwide economy appears to be healthier than it was a few months ago.
In the United States, jobs numbers are up. Europe does not appear to be heading over a cliff, and Chinese growth is still near the double-digit range.
Chinese growth is particularly important as it is driving its oil consumption growth. Although the country uses half the oil the United States does -- just under 10 million barrels a day -- China's oil appetite is growing.
Chinese oil consumption is growing at over 5% a year, while U.S. demand is flat or even declining, according to the U.S. Energy Information Agency.
And then there's this fun fact: Americans buy nearly 13 million new cars a year. The Chinese buy almost 19 million.
Chinese growth, along with growth from other developing counties, means the world is expected to use more oil in 2012 than it ever has -- over 90 million barrels a day, according to EIA.
This growth eats into another important metric in oil markets: spare production capacity, or the difference between what the world is producing and what is has the capacity to produce.
During the depths of the recession, the world could produce some 4 million more barrels a day more than it needed. Now that number is more like 2 million, edging ever closer to the 1 million it fell to during the record oil prices seen in 2008.
Speculators: The above two factors have caught the attention of oil speculators -- investors in oil contracts like big banks, hedge funds and others that don't actually use crude oil or gasoline.
In the past two months the amount of contracts held by investors that bet the price of oil will rise jumped 45%, said Milne.

Gasoline investor interest is even greater, according to Tom Kloza, chief oil analyst at the Oil Price Information Service.
Kloza said there is now $12 billion in fund money -- the most ever -- betting on a higher price for the benchmark U.S. gasoline contract.
"I think the biggest driver is the money," he said. "There is so much speculative money based on a high-price scenario."
Refineries: The reason gasoline has attracted so much investor attention is that, in addition to the rising price of oil, several refineries along the U.S. East Coast have recently closed.
The refineries closed because, ironically, they weren't making any money, said Kloza.
They were older refineries that could only process the type of light, sweet crude currently being imported from Europe -- the type of oil that is very expensive.
But API's Chief Economist John Felmy points out that the U.S. as a whole made a record amount of gasoline last month, and says refining capacity isn't the problem.
The U.S. actually made more gasoline than it needed in the last month and ended up exporting some, said Felmy, a trend that's been occurring for months now.
It's true that refineries in the Midwest and Gulf Coast have certainly been cranking out gas, but the situation in the Northeast has many people nervous.
"To date, the market transition following the closing of two Philadelphia-area refineries has been relatively smooth," EIA said in statement Monday.
But it cautioned on a third refinery that may close this year.
"If areas cannot be adequately supplied in the short term, prices can spike."
Bonus: what's not to blame.
EIA identifies a host of other factors that, at any given time, can contribute to higher oil prices. But according to experts they are now not major factors in the recent price spike. They are:
OPEC production decisions: The cartel is actually producing more oil than is required to meet demand.
Non-OPEC production: A rise in oil output from the Untied States, Brazil and elsewhere is balancing out production declines in Mexico, Russia and other countries.
Weather: A warm winter in the United States balanced out a particularly cold one in Europe.
Inventories: This is oil stored in tank farms at refineries and other places. The amount of oil here is generally at average or above average levels.
The dollar: A falling dollar tends to boost oil prices, but the dollar has actually gained against the euro in the last two months.