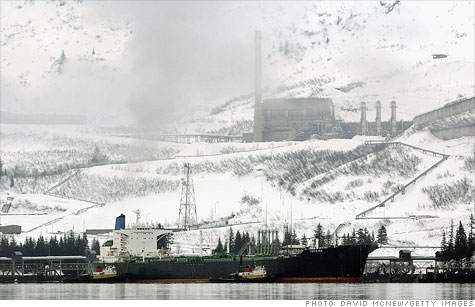 Oil revenue accounts for 90% of Alaska's tax haul, and a booming energy sector puts more money into residents' pockets.
NEW YORK (CNNMoney) -- Alaska has a big vested interest in high oil and gas prices.
Oil revenue accounts for 90% of the state's tax haul. So its budget swells and oil royalties gush into a special state investment fund -- the only one of its kind in the United States.
And that can translate into windfalls for residents, who share in the oil bounty through annual dividends paid by the fund and, in boom times, direct payments from the state.
For example, when oil and gas hit record highs in 2008, residents received $3,000 checks, twice what they normally get.
"Things become much easier for the state when oil prices are high," said Gerald McBeath, a professor at the University of Alaska at Fairbanks. "It makes it possible for them to increase funding for schools, construction and protection services."
But, of course, there's a dark side to high oil prices.
Alaska is a net importer of food and other consumer staples, the cost of which rise when energy prices spike. Residents get hit with outsize fuel and food prices.
In addition, the state investment fund's investments -- primarily stocks, bonds and real estate -- usually take a hit if the economy cools.
Still overall, rising gas prices mean higher revenues for the state's treasury.
In 2011, Alaska collected $7 billion from oil companies, up from $6.2 billion in 2010.
Now if oil prices continue to climb, the state will exceed the $8.9 billion it had projected it would earn in 2012. Back in 2008, revenues hit $11.3 billion.
And unlike fiscally-strapped states struggling over which public services to cut, Alaskan officials are deciding whether to increase state-backed programs or create new ones. Examples include a $4.3 billion hydroelectric dam or more dividend checks to residents.
"Whenever we have money in the treasury, people come forward with ideas to spend it," said Steve Colt, a professor at the University of Alaska at Anchorage. "There's a long laundry list of smaller projects that people are advocating for."
The state's treasury now holds reserves of $12.1 billion, the largest amount of any U.S. state.
Alaska collects income from oil companies in three ways: excavation taxes, corporate taxes on oil profits and royalties. The treasury gets 75% of the royalty payments, and the oil investment fund gets the rest.
The Alaska Permanent Fund was created in 1976, soon after oil started moving through the TransAlaska pipeline. The idea was to give residents a cut of the state's oil revenues in the form of an annual dividend.
The royalties have helped the fund build a $41 billion portfolio.
The dividend to residents is based on the fund's returns over the past five years. That helps smooth out oil's boom and bust years. During good years, the fund gets more in royalties, but typically those years coincide with challenging economic times and tougher market conditions.
"You've got more money to make money with, and more money to lose money with too," said Mike Burns, executive director of the Alaska Permanent Fund.
Indeed, the fund's 2009 fiscal year covered both record oil prices and the fall of Lehman Brothers -- and the ensuing stock market plunge. The fund reported a loss of 18.5% that year, but it generated 20.5% returns in fiscal year 2011.
The fund also makes longer-term bets on real estate and infrastructure.
Alaska's fund is a 50% owner of the Manhattan headquarters of megabank UBS. It also owns a piece of Tyson's Corner mall outside of Washington, D.C., and the North Bridge shopping mall in downtown Chicago.
The fund even has stakes in airports in London and Vancouver, a waste disposal plant in Great Britain and a propane storage plant in India.