Stronger yuan is good for U.S. Eventually.
NEW YORK (CNNMoney.com) -- China has finally announced a long hoped for move that will allow its currency to gradually trade higher. But there was nothing gradual about Wall Street's reaction.
Stocks surged Monday morning. The general consensus was that a stronger yuan would be a huge plus for companies that export to China, especially those that compete with Chinese manufacturers.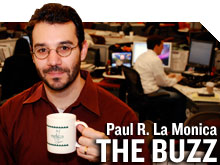 With that in mind, many of the best performing stocks early Monday were industrial and materials firms, such as steel makers, gold and copper miners and other metals suppliers.
Titanium Metals (TIE), Freeport McMoRan Copper and Gold (FCX, Fortune 500), U.S. Steel (X, Fortune 500), A.K. Steel (AKS) and Alcoa (AA, Fortune 500) all shot up more than 5%.
China's announcement was also viewed by some as a concession that the country needs to broaden out its economy -- relying less on being an exporter of cheap goods, and more on its own consumers.
So other companies that already have a healthy presence in China, such as fast food giant Yum! Brands (YUM, Fortune 500) and chip maker Advanced Micro Devices (AMD, Fortune 500), also enjoyed a nice pop Monday morning.
But some experts wondered if the market's euphoric reaction would quickly fade once investors realize that the benefits from China's decision will not really be felt for years. In fact, stocks gave up all their gains by Monday afternoon.
Mike O'Rourke, chief market strategist with BTIG, an institutional brokerage firm in New York, said that investors also need to realize that China is essentially taking steps to eventually move its currency back to where it was before the global market meltdown in 2008.
In other words, it's encouraging but it should not be a surprise.
"This is a positive but it should have been expected," he said. "In the short-term, there should be no major shift in financial markets as a result of this."
As such, O'Rourke said he thinks investors may soon focus more on the uglier, short-term fundamentals for the U.S. economy.
The labor market is still recovering slowly, for example. And experts said it is not certain that a stronger yuan will lead to a flood of new jobs in the United States any time soon.
"The yuan will increase in value slowly. Is that going to create a substantial amount of manufacturing jobs? I doubt that it's seriously going to have that impact. But that seems to be the conclusion from the market," said Zane Brown, fixed income strategist and head of Asian business development with Lord Abbett, a Jersey City, N.J.-based investment firm.
It's also not clear that U.S.-made products will immediately become more competitive with Chinese made goods.
"A pair of shoes made in China that were 100 bucks may now cost $101 or $102. This is not a huge game changer for U.S. companies just yet," said Paul Nolte, managing director with Dearborn Partners, an investment firm based in Chicago.
Nolte said he's not changing his investment strategy as a result of the latest developments in China. He said the news appears to be strategically timed since the topic of China keeping the yuan artificially low would have likely been a big topic of debate at the G-20 meeting in Toronto later this week.
"China is going to do what's good for China. They are cognizant of world stage, but they will move slowly and deliberately," he said. "This may put the focus on other issues at the G-20 meting but China won't necessarily cave to external pressure right away."
Calming nervous currency markets
That said, the move is a good sign -- even if it has little immediate economic impact.
Sandy Mehta, principal and chief investment officer with Value Investment Principals, an independent research firm in Hong Kong, said that in a time of such turmoil, particularly regarding the euro's massive plunge, stability in the yuan is a plus.
"This is not a one-off move. It's a proactive step that needed to be taken by China," he said. "A 3% to 5% increase a year for the next few years would not be a big one-time adjustment. That's a positive for the global economy when you consider that so many governments have had to be so reactive."
Brown added that with the global markets still worried about the debt crisis in Europe, any cooperation between the United States and China to keep the world's economy on track is a good thing.
"Reducing the level of antagonism between the U.S. and China helps things out enormously," Brown said. "The last thing investors want is a rise in protectionism. That tack won't serve anyone well in the long-term."
BTIG's O'Rourke agreed. He said that even though the timing of the yuan announcement appears to be politically motivated, any thing that China does to encourage a shift to a more domestic consumer-driven economy has to be cheered.
He just thinks investors shouldn't get overly ebullient.
"If China develops a consumer economy similar to ours, the potential growth in the global economy and for corporations after 2015 could be amazing," he said.
"But obviously it's only 2010," he quickly added.
- The opinions expressed in this commentary are solely those of Paul R. La Monica.