An Enron-era name acquired by Blackstone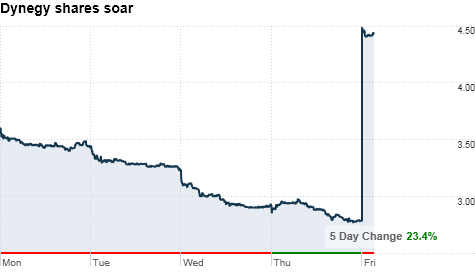 NEW YORK (CNNMoney.com) -- Shares of Dynegy Inc. - a power generating company that played a role in the Enron scandal - surged more than 60% Friday after the company agreed to be acquired by investment firm Blackstone Group for $4.7 billion, including its existing debt.
Under the deal with Blackstone Group (BX), Dynegy stockholders will receive $4.50 in cash for each share of Dynegy common stock they own -- a 62% premium to the closing share price of $2.78 on Thursday, the company said.
Shares of Houston-based Dynegy (DYN) soared about 61% to $4.47 after the opening bell.
The deal also includes an agreement between Blackstone and power generator NRG Energy (NRG, Fortune 500), under which NRG will acquire four of Dynegy's natural gas-fueled plants in Maine and California for about $1.36 billion.
Dynegy, whose shares have fallen 89% over the past three years, has 40 days to shop around for competing offers.
In late 2001, Dynegy considered a $9 billion merger with Enron Corp. to bailout the disgraced energy giant. But Dynegy pulled the plug on the deal after having difficulty getting a true appraisal of Enron's worth, and soon after Enron went bankrupt.
A former Dynegy executive, Jamie Olis, served 5 years in prison for a bookkeeping scandal involving the company. He was released a year ago, according to the Federal Bureau of Prisons.