Google eyes purchase of massive NY building - report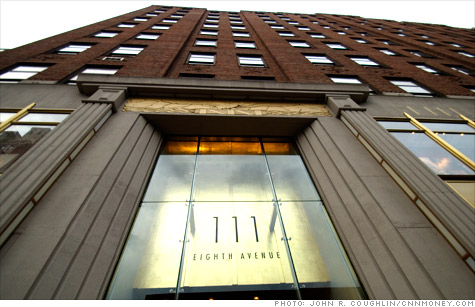 NEW YORK (CNNMoney.com) -- Buzz on the street is that Google is well-positioned to buy out its landlords, at one of the largest buildings in New York City.
Google (GOOG, Fortune 500) is in talks to purchase the 111 8th Ave. office building in Manhattan for about $2 billion, according to the New York Post.
The Internet giant is already a tenant at the sprawling property, a 2.9 million-square-foot structure, that takes up an entire city block in the posh Chelsea district.
The current address of Google's New York headquarters, at 76 9th Ave., is located at the western end of the building. According to co-owner Taconic Investment Partners, the structure is the second-largest in New York City and originally served as the headquarters for the Port Authority of New York.
Taconic has sunk $50 million into the building since acquiring it in 1998 -- which includes an overhaul of elevators, lobbies, corridors, power plants and fuel delivery systems.
"Under Taconic's stewardship, the rent roll was substantially increased and the credit tenant roster today includes some of the world's recognized brands," Taconic said on its website.
Google and Taconic did not confirm to CNNMoney.com whether the deal is under discussion. But with $33.4 billion cash and marketable securities in reserves, Google seems like it could handle the purchase.