40% of Americans cutting Thanksgiving fat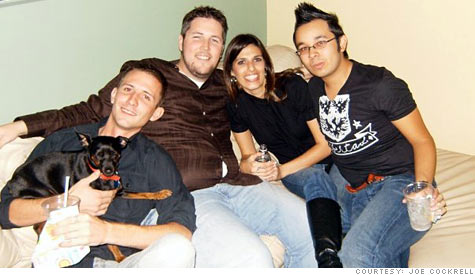 NEW YORK (CNNMoney.com) -- Forget that second helping of pumpkin pie. With the economy still struggling American families are planning to scale back their Thanksgiving celebrations this year.
This year nearly 40% of families will change their Thanksgiving plans for economic reasons, according to a survey by First Command Financial Services. The biggest change will be in the number of people coming to dinner: 20% say they will opt for a family-only affair.
"People are looking at areas in their life where they do have some control over the spending and Thanksgiving is one of those areas where people can go overboard," said Coupons.com household savings expert Jeanette Pavini.
Last year, the average cost of Thanksgiving dinner for a family of 10 was $42.91, nearly double the price in 1987. But that still only includes a 16-lb. turkey, one bag of stuffing (no additions like mushrooms or herbs) and a pound of peas, among other things. It's more a dinner of "it'll do," than a holiday feast that many families enjoy putting on.
Still, many more Americans are finding themselves trending toward the lower end of the expenses. And one quarter of the survey respondents said despite a recovery, this new mentality marks a permanent change in perspective.
"We've been seeing a real move towards a more frugal approach to spending, not only in holiday spending, but in general," noted Mark Leach, a spokesman for First Command.
Marketing and media consultant Joe Cockrell used to throw lavish Thanksgiving parties for 150 people, but not this year.
In the past, he said, "it was a time to gather with friends before the crazy holiday season hits. Last year it was complete with bartenders, catered food and a D.J."
Since then, Cockrell was put on notice at his firm and had to short sell his condo because his new business was slow get off the ground.
With a much smaller budget for extravagant entertaining this year, Cockrell is scaling back to just a few close friends "for a B.Y.O.B. get-together."
"We'll probably do board games, just kind of hang out," he said.
In the future he hopes to revive his pre-recession Thanksgiving extravaganza, "but for now we're content."
"It's not cool to overdo things when people are suffering and most people are suffering," said lifestyle expert Susie Coelho who specializes in economical entertaining. "People are concerned about their homes and their jobs."