Amazon sells Droid phones for a penny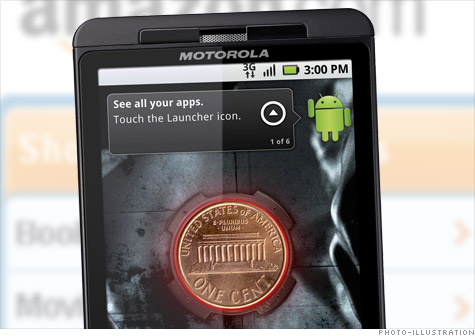 NEW YORK (CNNMoney.com) -- Amazon is currently selling all Droid phones for a penny when customers sign up for a new Verizon Wireless contract.
The deal is good for all of Verizon's (VZW) U.S. Droid phones, including the Droid X and new Droid Pro, through November 22. Customers starting new accounts will also get a $35 credit to cover the full cost of activating the phone.

Smartphone competition across all carriers seems to be sparking a race to the bottom in pricing -- a far cry from the $199 "magic price point" that's been in place so far.
Amazon (AMZN, Fortune 500) kicked off the smartphone-for-a-penny campaign back in August, when it slashed the Samsung Vibrant to 1 cent. Just last week, the site was selling two Windows 7 phones -- the HTC Surround and LG Quantum -- for 1 cent with a two-year contract from AT&T (T, Fortune 500). Last week's special also included some BlackBerry, Android and Palm models.
It's tough to beat a 1 cent deal, but that's applicable only to new accounts -- current customers are left out. Those eligible to upgrade their phones and extend their contracts can get a discounted phone -- for the Droid X, it's currently $49.99 -- but anyone not eligible for a trade-up will be paying full freight. That's $559.99 right now on Amazon for the Droid X.

A Verizon Wireless representative declined to comment on the offer, which Amazon said the company is sponsoring.
Best Buy's (BBY, Fortune 500) deal is no one-penny special, but the retailer is offering the Droid Pro for $99.99 to existing Verizon Wireless customers who sign a new two-year agreement. That's $80 off the usual price with a signed contract.
It's still relatively early in the smartphone game, and it's still an open question how low the price will go. Ultimately, the device could become merely a throw-in incentive to buy a wireless contract.
There's one smartphone that customers won't see in the bargain bin, however: The iPhone. Apple (AAPL, Fortune 500) generally doesn't allow its devices to be sold for any much less than the sticker price.