FedEx's special delivery: Better worker pay
NEW YORK (CNNMoney.com) -- A lot of people talk about Federal Express as an economic bellwether. And even though FedEx reported a lower than expected profit Thursday, we should all hope that more companies follow the shipping giant's lead.
If you look at the numbers for FedEx more closely, you'll notice that earnings didn't miss forecasts because of plunging demand. Sales were up 12% from a year ago. The company even boosted its outlook for the fiscal year thanks to what CEO Fred Smith called a "healthier global economy" in the earnings release.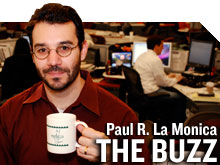 Yet net income still fell 18% -- mostly because Fedex is paying its workers more. Most notably, salaries and employee benefits increased 10% from a year ago.

FedEx does have a higher headcount. The number of full-time employees are up 5% from last year. Still, that only partly explains the higher salary expenses.
FedEx CFO Alan Graf said in the earnings release that profits were hit due to "strong compensation and benefits headwinds as we reinstated programs curtailed during the recession."
Translation: The company's doing fine and we're rewarding our workers as a result.
A spokesman for FedEx gave me more color. Annual merit pay increases and bonus programs had been eliminated during the height of the economic downturn. They are now back. FedEx is also matching employee 401(k) contributions again.
That's a good thing. And it was encouraging that shares of FedEx (FDX, Fortune 500), which fell as much as 4% in pre-market trading as a knee-jerk reaction to the earnings miss, rose more than 2% in regular trading Thursday afternoon as investors realized the company's results weren't as bad as first appeared.
The fact that investors took FedEx's "disappointing" earnings in stride could be a sign that the market is willing to tolerate lower profits from corporations if it means companies are actually investing in growth opportunities instead of slashing jobs and salaries.
As we all know, persistently high unemployment is a major problem. Despite the urging of President Obama and other politicians, many cash-rich companies are still not comfortable enough about the economic outlook to go out and hire more people.
Still, it's a good sign for those who have jobs if companies are willing to loosen the corporate purse strings enough to give employees bigger paychecks. That does seem to be happening more broadly throughout the economy, albeit at a slow pace.
According to figures released by the Labor Department Wednesday, real average weekly earnings in November rose 1.7% from a year ago due to both higher wages and a longer work week.
Chris Probyn, chief economist with State Street Global Advisors in Boston, said that during the recession companies did more with less and enjoyed remarkable gains in productivity as a result. Many workers were too worried about their job status to complain about being worked to the bone.
But now that there are faint signs of economic recovery, businesses may realize that they need to take some of the profits they've generated and return it to employees -- not just shareholders.
"Businesses may not be confident enough to go hire more because they're not sure there will be significant and sustained demand," he said. "But it's logical to think that companies may look to pay their existing work force a bit more handsomely since many have lots of cash."
Ray Stone, an economist with Stone & McCarthy Research Associates in Princeton, said rising health care costs for employees may also, somewhat paradoxically, lead more companies to give existing workers a pay bump.
Stone said businesses may come to the conclusion that one way to maintain productivity is to keep current workers happy with salary increases and bonuses instead of hiring lots more workers.
"Companies may be more inclined to reward current employees to get them to work harder than hire new workers. It may be less expensive to keep current employees cranking because of rising health care costs," he said.
Of course, the bad news is that this does nothing to solve the unemployment epidemic.
Probyn said that having a workforce with more disposable income is a positive for the broader economy. Consumers may spend more and that lift in demand may help spur job growth somewhat.
That is key because Probyn said it will be difficult for the economy to grow at a healthy pace for the long term until more people are put back to work.
Still, Stone added that as long as the overall jobless rate remains high, pay raises like the ones at FedEx may wind up being more isolated incidents than a broader trend.
Stone said that for companies like FedEx, which experience a seasonal jump in demand around the holidays, it makes sense to boost wages. That may not be the case for businesses in still-struggling sectors of the economy.
"I would like to think that what FedEx is doing will extend to other firms and industries," Stone said. "But companies still have the upper hand in bargaining when it comes to pay. We shouldn't get too excited."
-- The opinions expressed in this commentary are solely those of Paul R. La Monica. Other than Time Warner, the parent of CNNMoney.com, and Abbott Laboratories, La Monica does not own positions in any individual stocks.