S&P warns of more muni bond downgrades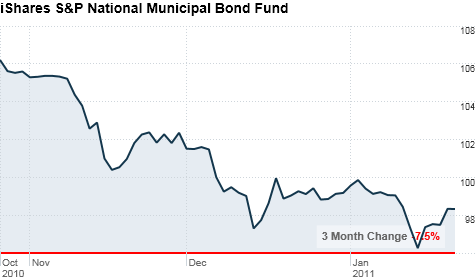 NEW YORK (CNNMoney) -- Just as fears about a heavy sell off in the municipal bond market seemed to be easing, Standard & Poor's issued a warning that this year could bring a potential surge in the number of downgrades of bonds issued by state and local governments.
States including California, Illinois and New York are strapped for cash and dealing with deep budget deficits, sparking fears that states and cities could fall short in payment obligations to muni bond holders.
During the first three quarters of 2010, S&P cut ratings on 343 state and local government-issued bonds. That's 26% higher than all of 2009. And in all of 2008, S&P downgraded ratings of just 37 bonds issued by state and local governments.
"We believe that continued revenue decreases for state and local government may increase fiscal strain on budgets, and monitoring of liquidity will be especially important in 2011," said Standard & Poor's credit analyst Gabriel Petek.
Muni bond investors have been fleeing the market in droves since November.
The sell-off caught additional fire after Wall Street analyst Meredith Whitney issued a muni bond warning during an appearance on "60 Minutes" last month.
She said that the market could see 50 to 100 municipal bond defaults and restructurings this year, resulting in hundreds of billions of dollars in losses to investors.
Not everyone agrees with her doomsday scenario. S&P says it expects that state and local governments will largely be able to maintain medium to high investment-grade ratings this year.
While downgrades are likely, Petek said he doesn't think the budget problems will result in a "notable increase" in defaults.
That's probably because defaults are not very common. State and local governments are obligated by law to balance their budgets between each fiscal cycle. In fact, there have been just 54 defaults between 1970 and 2009 out of 18,000 muni issues, according to Moody's Investors Service.
Just last Friday, Fitch Ratings raised its credit outlook on Illinois, citing "steps the state has taken to address its budget imbalance through a sizeable increase in both corporate and personal income taxes."
"Governments are under financial stress and undoubtedly have long-term liability problems related to pensions and health care costs, but they have been making substantive cuts in their budgets, and will continue to cut more meat to balance their budgets," said Hugh McGuirk, head of municipal investments at T. Rowe Price.
He added that investors have to remember that municipal bonds are higher quality than other fixed income securities, and even in the current environment, continue to be so.
"All the stories about the demise of the bond market are grossly exaggerated," McGuirk said. "We'll see more downgrades and more cities reach breaking points, but that doesn't mean the broad municipal bond market will go to hell in a hand basket. There's still a lot of good credit out there."
Even in the event of a default, bond investors typically recover most of their money.