U.S. stocks finish in the red as Japan remains in focus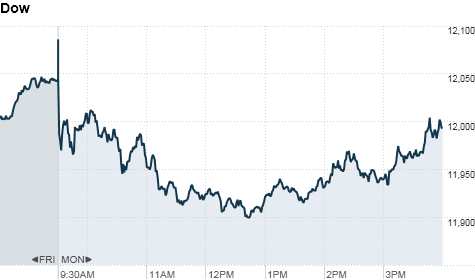 NEW YORK (CNNMoney) -- U.S. stocks came off session lows but finished in the red Monday, after Japan's leading stock index plunged in reaction to last week's massive earthquake and tsunami.
The Dow Jones industrial average (INDU) closed down 51 points points, or 0.4%. Earlier in the session, it had lost as many at 147 points. The modest decline was led by a 2% slide in shares of General Electric (GE, Fortune 500), following news that the company designed all six of the reactors at the Fukushima Daiichi nuclear plant in Japan.
S&P 500 (SPX) fell 8 points, or 0.6%, as shares of luxury retailers Coach (COH) and Tiffany & Co. (TIF) -- which have been building their presence in Japan -- slid more than 5%. Nuclear power plant operator Entergy (ETR, Fortune 500) was also a big loser, dropping 4.9%
Meanwhile, the tech-heavy Nasdaq (COMP) lost 15 points, or 0.5%.
Tokyo's Nikkei (NKY) index finished near its lows for the day, as investors gauged the damage from the quake that devastated the island nation. The Nikkei ended down 6.2% -- the index's biggest one-day drop since late 2008.
"The situation in Japan has created a lot of uncertainty in the market," said Dave Hinnenkamp, CEO of KDV Wealth Management. "We don't know what will happen in the oil market, or the impact on the global economy if this pushes Japan into a recession. There are a lot of questions, and investors will be tentative until they figure out where things are headed."
And while the threat of a nuclear crisis seems to be largely contained, Hinnenkamp added that investors will keep a close eye on developments and any changes could "rock the markets."
Japanese officials said Monday they will backstop the country's financial system, with a cash injection of more than $180 billion, to buffer it against the economic impact of the earthquake and tsunami.
U.S. stocks ended higher Friday, but all three major indexes ended lower for the week.
World markets: Other than Tokyo, major Asian markets ended slightly higher. The Shanghai composite rose 0.1%, while the Hang Seng in Hong Kong gained 0.4%.
In Europe's trading session, Britain's FT-100 lost 1%, France's CAC-40 fell 1.3% and Frankfurt's DAX lost 1.7%.
Companies: U.S.-traded shares of some companies based in Japan were down sharply in early trading Monday.
Shares of Canon (CAJ), based in Tokyo, were down 4%. Toyota (TM) shares were off 5%, while Sony (SNE) was down 7%.
Stateside insurance companies, including Hartford Financial Services Group (HIG, Fortune 500) and Aflac (AFL, Fortune 500) -- which generates almost 75% of its revenue in Japan, also took a big hit. Shares of both insurers fell about 3%.
Early Monday, Warren Buffett's Berkshire Hathaway (BRKA, Fortune 500) said it would acquire Lubrizol for $135 per share in an all-cash transaction. That's a 28% premium over Lubrizol's closing price Friday. The deal, valued at approximately $9.7 billion, is one of Berkshire's biggest acquisitions ever.
Shares of Berkshire (BRKA, Fortune 500) fell more than 1%, while Lubrizol's (LZ, Fortune 500) stock jumped nearly 28%.
Currencies and commodities: The dollar fell slightly against the yen, after Japan's central bank pledged to support the nation's financial system in the aftermath of the quake. The U.S. currency was also lower against the pound and the euro.
Oil for April delivery rose 3 cents to $101.19 a barrel. Gold futures for April delivery rose $3.10 to settle at $1,424.90 an ounce.
Bonds: The price on the benchmark 10-year U.S. Treasury rose, pushing the yield down to 3.36%.