Stocks boosted by Home Depot, Verizon, Amazon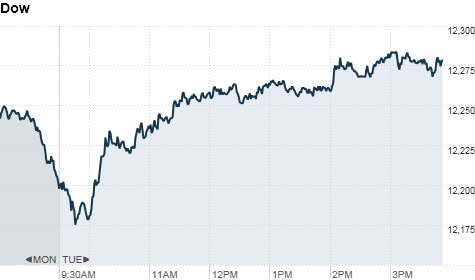 NEW YORK (CNNMoney) -- U.S. stocks finished near session highs Tuesday, thanks to solid gains in telecommunication and retail stocks, and as investors shrugged off ongoing global concerns.
The Dow Jones industrial average (INDU) rose 81 points, or 0.7%, led by a 3% jump in shares of Home Depot (HD, Fortune 500). The home improvement retailer said late Monday that it would buy back $1 billion of outstanding shares.
Telecom companies AT&T (T, Fortune 500) and Verizon (VZ, Fortune 500) also boosted the blue-chip index, as investors continued to cheer the possible consolidation of the industry.
The S&P 500 (SPX) rose 9 points, or 0.7%, and the Nasdaq (COMP) added 26 points, or 1%. Online retailer Amazon.com (AMZN, Fortune 500) was among the best performers on both indexes. Shares climbed more than 3% after Amazon introduced its Cloud Music service ahead of rivals Apple (AAPL, Fortune 500) and Google (GOOG, Fortune 500).
Meanwhile, a 4% drop in shares of Apollo Group (APOL) weighed on both the S&P 500 and the Nasdaq, after the operator of the University of Phoenix lowered its outlook. Devry (DV) and Washington Post (WPO, Fortune 500), which own Kaplan, also slid.
U.S. stocks finished slightly lower Monday, snapping a three-day winning streak. But volume has been light, so even the sharp move higher should be taken in stride.
The market is going through "a normal digestion period following the recent sharp gains," said Scott Marcoullier, chief technical market strategist at Wells Fargo Advisors.
Still, Marcoullier said the market remains "vulnerable to developments in Japan and hot spots in the Mideast."
Late Monday, President Obama rejected criticism of his decision to commit U.S. forces to the U.N.-authorized military mission in Libya, saying there were strategic and moral reasons to act against Moammar Gadhafi.
In Japan, workers at the crippled Fukushima Daiichi nuclear plant struggled to keep reactors cool and prevent radioactive water from leaking into the ocean.
Investors are also gearing up for the latest snapshot of the nation's job market due before the start of trading Friday.
"All the external news is negative, but stocks will stay in a pretty narrow range and trade somewhat aimlessly ahead of the jobs numbers," said Donald Selkin, chief market strategist at National Securities. "Depending on what comes out, the market could breakout to the upside or downside."
Economists expect the economy added 185,000 jobs during the month, and the unemployment rate held steady at 8.9%, according to economists surveyed by Briefing.com.
Economy: The S&P Case-Shiller home price index of 20 major cities showed that January home prices fell 3.1% on an annual basis, nearing the housing market's 2009 lows. Prices fell 1% on a monthly basis.
Consumer confidence slipped in March, according to the Conference Board. Turbulence in the oil markets and concern over the Japanese nuclear crisis put a big dent in sentiment.
Companies: Shares of BP (BP) fell 2.7% after analysts at Collins Stewart reportedly downgraded the stock on concerns about its joint-venture with Russian oil and gas company Rosneft.
BP was also under pressure following a report that federal prosecutors are considering whether to pursue manslaughter charges against company managers for decisions made before the Deepwater Horizon oil rig exploded and killed 11 workers last year.
World markets: European stocks finished mixed. Britain's FTSE 100 edged up 0.5%, the DAX in Germany slipped 0.1% and France's CAC 40 tumbled 0.3%.
Asian markets ended lower. The Shanghai Composite fell 0.9% and Japan's Nikkei slid 0.2%, while the Hang Seng in Hong Kong was little changed.
Currencies and commodities: The dollar was lower against the euro and the British pound, but higher versus the Japanese yen.
Oil for May delivery rose 81 cents to settle at $104.79 a barrel.
Gold futures for April delivery fell $1.70 to settle at $1,418.20 an ounce.
Bonds: The price on the benchmark 10-year U.S. Treasury edged lower, with the yield rising to 3.49% from 3.45% late Monday.