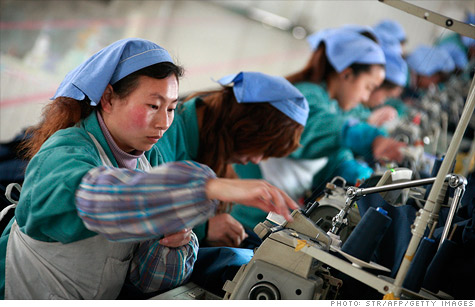 Chinese manufacturing growth has continued to grow, but at a slow pace.
NEW YORK (CNNMoney) -- Chinese manufacturing continues to grow at a slow pace, edging up to a 4-month high in February, according to a preliminary report issued Wednesday.
China's Purchasing Managers Index for manufacturing purchasing rose to 49.7, still in a state of contraction, according to a report issued by HSBC. Figures above 50 signal growth. That's up from the prior month's reading of 48.8.
HSBC also said that China's manufacturing output index rose to 50.1 in February, also a four-month high. The prior month's reading was 47.6.
However, overall, the figures show the pace of manufacturing growth is slowing.
"With a meaningful rebound of domestic demand not in sight, external weakness is starting to bite, adding more downside risks to growth," said HSBC chief economist Hongbin Qu.
Last month, the Chinese government said manufacturing had expanded, helped by higher prices for raw materials. But smaller gains in production and new orders tempered the gains.
Mark Williams, chief Asia economist for Capital Economics, said that HSBC's Chinese PMI "suggests that conditions in manufacturing have stabilized but are relatively subdued," adding that "foreign demand appears to have weakened."
Analysts say that the Chinese economy recently got a boost from Chinese New Year.
Asian stocks edged higher Wednesday, with the Nikkei (N225) and Shanghai Composite (SHCOMP) rising nearly 1%, while the Hang Seng (HSI) edged up 0.3%.