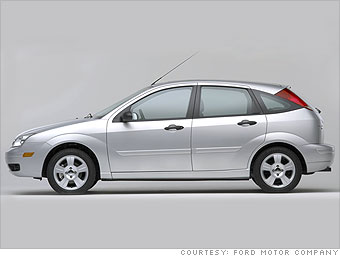 The 2005 Ford Focus may not be the most popular car on the block, but it's dependable and gets good mileage.
Q.
What about buying used?
A. It depends. "Used compact cars in really good shape - like three-year-old Honda Civics - are commanding 70% to 90% of their original MSRP because demand is so high," says Joe Phillippi, president of AutoTrends Consulting.
Adds John Wolkonowicz, senior automotive analyst for Global Insight: "Buying a used Camry or Accord isn't a great move - they hold value too well."
Your best deal: a car that isn't in great demand but gets good reliability ratings from J.D. Power & Associates, such as a 2005 Ford Focus (24 mpg city, 33 mpg highway) or Hyundai Elantra (25 mpg, 33 mpg).
Both sell for less than 60% of the manufacturer's suggested retail price (MSRP), which seems an underestimation of their real value, considering their J.D. Power ratings.

NEXT: Function over form

Last updated August 12 2008: 6:04 AM ET
Email
|
Print
|

Digg this story
|

RSS