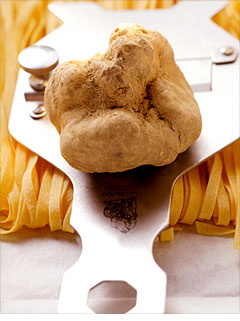 Estimated price per pound:
$6,000 and up
Sensual and mysterious, truffles were thought to be an aphrodisiac by the ancient Greeks and Romans. Their high price is due to their unpredictable growth habits: No one has been able to domesticate them, relying instead on trained dogs and pigs to sniff them out. The mushrooms grow underground near the roots of oak trees. Truffle hunters, known as truffeculteurs, work alone; their proven locations are closely guarded secrets.
White winter truffles, also called Alba truffles after their region of origin, are the priciest, commanding $6,000 to $10,000 per pound (prices vary year-to-year based on availability and quality). Less expensive truffles include white summer truffles and black winter and summer truffles.
Marky's, a gourmet market in Miami, sells fresh truffles in season; last winter between November and January, the store sold about a pound of white truffles per week.
Says purchasing coordinator Sarah Freedman-Izquierdo, "The people who buy truffles are people who know how to cook with them - people who know food well." She advises showcasing fresh truffles in simple preparations: "Nothing too complicated, nothing that will mask their flavor." Try them gently sautéed in oil or butter and served on bread, or eaten raw in a simple salad, she advises.

NEXT: Caviar