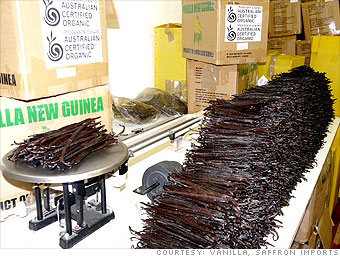 Estimated price per pound of beans:
$50 and up
Estimated price per gallon of extract:
$260 and up
Because of its ubiquity, it's easy to take vanilla for granted, but plain ol' vanilla is second only to saffron when it comes to the priciest spices.
Vanilla beans come from a tropical orchid native to Mexico; today, Madagascar and Indonesia are the largest producers. Vanilla is expensive because growing and harvesting it is so labor-intensive, explains Patricia Rain, author of Vanilla: The Cultural History of the World's Favorite Flower and owner of The Vanilla.Company, a wholesale vendor. "Each flower is hand-pollinated, and each bean handpicked," she says. Then, the beans are dried and cured for several months to intensify the flavor. Six of Rain's vanilla beans cost $14.95; a 4-ounce bottle of extract sells for $8.25.
Artificial vanilla - a synthetic compound derived from coal tar - is significantly cheaper than real vanilla, but it doesn't have the same robust, nuanced flavor. Rain worries that if consumers become overexposed to the taste of fake vanilla, which is prevelent in processed sweets, they'll lose sight of how good the real thing is.
"Just like coffee, or chocolate, it's worth it to get the best," she says. "If you love the taste of a product, you need to support it; you need to buy the real thing."

NEXT: Foie gras