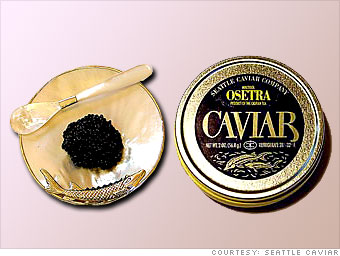 Estimated price per pound:
$1,550 and up
A favorite at New Year's parties, weddings and other celebrations, caviar is synonymous with luxury. Caviar, or salted fish roe, comes primarily from sturgeon that live in the Caspian Sea; Russia, Kazakhstan, and Iran are all major exporters. Beluga caviar is thought to be the best, and at around $4,000 a pound, the most expensive. However, overfishing has led to the rapid depletion of the beluga sturgeon population. As a result, the U.S. has banned imports of beluga caviar. (Other countries do import beluga caviar, although production is limited by international quotas.)
Osetra caviar, consisting of small, yellow-brown eggs, is the next best option. At Marky's in Miami, one ounce of golden osetra caviar costs $147. "The best caviar," explains Mark Zaslavsky, co-owner of Marky's, "has a very light, buttery taste, and is not too salty. It makes you long for more. And caviar on Russian blini, with a little Champagne - it takes you to heaven."
Zaslavsky prides himself on selling "the best of everything" at his shop, which also carries high-end olive oils, cheese, escargot, caviar, and foie gras. To him, fine foods are a luxury along the lines of fur coats and diamonds. "Why do people buy expensive food? Why do they buy expensive cars, big houses, jewelry?" he asks. "Because we all want the best."
Zaslavsky calls caviar "the taste of success" - an addictive pleasure that has seduced him and other devotees to cross legal and ethical bounds. Demand often exceeds supply for legally obtained caviar (roe harvested in accordance with the Convention on International Trade in Endangered Species), and in 2005, Marky's pled guilty and paid a $1 million fine for purchasing illegal caviar from smugglers. As part of the plea agreement, the company implemented a new system of verification to ensure that all of its caviar meets CITES standards.

NEXT: Saffron