Seeing vulnerable incumbents, both parties are backing political outsiders for Congress. Check out these business owners' plans for getting the nation on track.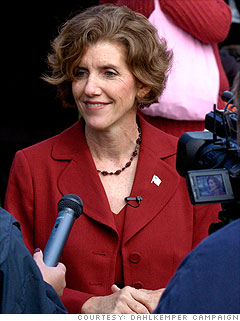 Co-owner and Special Projects Director, Dahlkemper Landscape
Erie, Pa.
Party: Democrat
District: Pennsylvania, 3rd
Incumbent and challenger: Phil English (R)
kathydahlkemperforcongress.com
Outcome: Won
Kathy Dahlkemper is a rookie when it comes to politics, but she's hoping that will work in her favor in her campaign against seven-term incumbent Phil English.
Dahlkemper's name is well known in Erie County, which forms a large part of Pennsylvania's 3rd District, thanks to both her design and construction firm, Dahlkemper Landscape, and her role as director of the nonprofit Lake Erie Arboretum.
A dietician by training, Dahlkemper, 50, has been described by Roll Call as posing the first serious challenge to Rep. English in 10 years. As a pro-life Democrat, she could do well in a socially conservative district that has slightly more registered Democrats than Republicans.
The economy is Issue #1 for this businesswoman, who hopes to create more economic incentives to attract firms and boost employment in her district.
"A lot of industry has left our district to go to other parts of the country," says Dahlkemper.
Dahlkemper joined her husband's family landscaping business in 1997, and since then has run the business from the office while he works out in the field. Heading a campaign, however, is a full-time job, so Dahlkemper has trained three employees to take over her responsibilities. If she wins the election, she says that she and her husband will consider letting their employees buy out the business, which does $1 million in annual sales.
"It might push us into succession planning faster than we thought," she says.
NEXT: Jim Oberweis