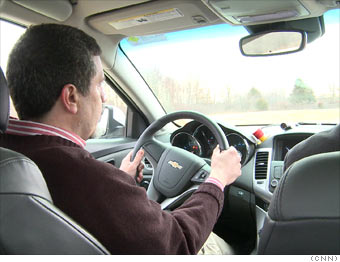 Even though it was an electric car, and I knew it was an electric car when I got in, the silence was still surprising.
When Volt owners get in their cars in the morning, the gasoline engine will not rumble to life. The car will be totally quiet and vibration-free as the shift lever is pulled down to drive, just as it was on the cold Michigan morning I tested this car.
As I pulled away from the side of the test loop and pushed on the "gas" pedal, I felt the car pulling up to speed strongly. The car's actual zero-to-60 acceleration time will be a little over eight seconds, which is about average for a modern car. Up to about 30 mph, the Volt's electric motor gives quicker-than-ordinary response, which is why the car feels particularly muscular.
The Volt doesn't have a transmission, in any ordinary sense. It doesn't have "gears" - like "first gear," "second gear," "third gear" - because it doesn't need them. Electric motors deliver full torque even at their lowest speeds so there's no need to change gear ratios to keep the engine in a "sweet spot" for performance.
The Volt's electric motor is sized to provide performance comparable to a 250-horsepower V6, said Posawatz, and that seemed about right.
Last updated April 15 2009: 1:14 PM ET
Email
|
Print
|

Digg this story
|

RSS