Kitchen too small? Depressed by your rooms? No matter what your budget, there's a way to solve the problem.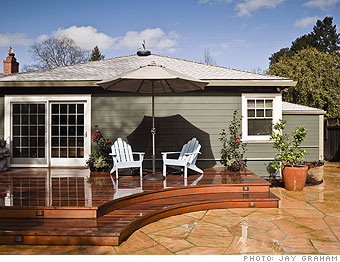 The obvious way to build a cheap deck is to use inexpensive yellow pine, but that will get you little more than a splintery playpen that degrades over time. Instead, use "faux teak" decking such as ironwood or ipe, or a plastic composite such as Trex (cost: about $25 per square foot), and use these methods to slash expenses.
1. Skimp on size
A deck needs structure underneath it, which is costly. So keep your deck size modest (about 10 by 18 feet) and cut the typical $10,000 deck price in half.
Save:
$5,000
2. Expand the patio
The patio doesn't need a foundation: Terrace stones can go directly onto sand, with gravel underneath for drainage (save $3 to $4 per square foot, or $800 for a 200-square-foot area).
Save:
$800
3. Ditch the railings
Instead, keep the deck low - less than two feet above the ground. That will save you about $2,000 for a 10-by-18-foot deck.
Save:
$2,000
4. Add a curve
A modest deck doesn't have to look boring. Budget $500 to $2,000 for an angle or curve at a focal point of your deck, and the effect will transform a simple box into art.
Spend:
$500
NEXT: Get a better bath without the tub
Last updated March 20 2009: 9:25 AM ET
Email
|
Print
|

Digg this story
|

RSS