Kitchen too small? Depressed by your rooms? No matter what your budget, there's a way to solve the problem.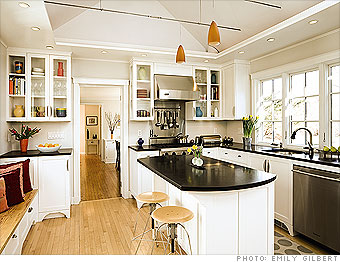 The place we eat reflects the way we want to live. That's why it's so tempting to throw big money at kitchen rehabs. But if you stick to the same basic layout and focus on key aesthetic changes, you'll get a far bigger impact for your renovation dollar.
1. Trim the cost of custom cabinets

In the quest for attractive, durable cabinets, homeowners often overspend. Opt for painted wood and forgo fancy detail to cut the price of custom work by about half. The brand-new cabinets pictured at right cost just $15,000.
Save:
$15,000
2. Use wood for floors

Wood costs $10 per square foot, vs. $20 for ceramic tiles. That would save $3,000 for a 300-square-foot room. And wood lasts far longer than vinyl.
Save:
$3,000
3. Don't move windows and doors

Replace old doors and windows, but keep the same location and size to save about $500 per opening. If you don't move the sink, you'll save another $500.
Save:
$1,000
4. Stick to mid-range appliances

Vikings and Sub-Zeros are great, but the mid-range GE models offer everything an amateur chef needs for thousands less. Think you'll trade up later? Size the space to accommodate higher-end units.
Save:
$4,000
5. Open the ceiling

Adding a couple hundred square feet to your floor plan will cost at least ten grand. Instead, put in a skylight ($1,500) and raise the ceiling to the rafters (about $2,500), which will give you the same sense of spaciousness.
Save:
$6,000
NEXT: Reshape the molding
Last updated March 20 2009: 9:25 AM ET
Email
|
Print
|

Digg this story
|

RSS