When you hear 'Detroit,' you may think bust and bailout. But look past the headlines to find nice prices on sharp cars.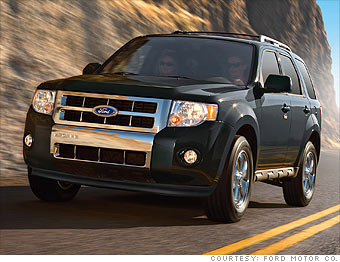 Sticker price:
$20,435-$27,670
Market price:
$18,415-$24,851
Cost of ownership:





Miles per gallon:
22 city 28 hwy.
The Escape has an old-school, trucky SUV style, and you may find the front seats a bit too hard. But it is still a car-based crossover, and it drives better and has more responsive acceleration than some sleeker alternatives, like Ford's Edge. As with many other Fords these days, the Escape also has rock-solid safety credentials and is as dependable as anything on the market. The optional Sync entertainment system is operated by voice command. (Believe it or not, it works.)
NEXT: Chevrolet Malibu
Last updated July 23 2009: 5:58 PM ET
About the Numbers * * * * *
Market-price data and the five-star cost-of-ownership rating come from Vincentric. The ratings compare fuel cost, depreciation, and other expenses over five years to those of vehicles of similar class and price. A higher rating means lower expected costs.