When you hear 'Detroit,' you may think bust and bailout. But look past the headlines to find nice prices on sharp cars.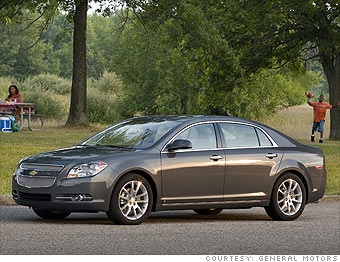 Sticker price:
$21,605-$26,880
Market price:
$20,417-$25,402
Cost of ownership:





Miles per gallon:
22 city 30 hwy.
Remember the last Chevy you drove, maybe when you picked it up as a rental at the airport? This year's Malibu isn't like that one. As in: a nice interior (aside from a few cheapy pieces); a quiet, luxury-like ride; and decent handling. If you get the four-cylinder version with the six-speed transmission, you'll also enjoy even better fuel economy.
NEXT: Ford Mustang GT
Last updated July 23 2009: 5:58 PM ET
About the Numbers * * * * *
Market-price data and the five-star cost-of-ownership rating come from Vincentric. The ratings compare fuel cost, depreciation, and other expenses over five years to those of vehicles of similar class and price. A higher rating means lower expected costs.