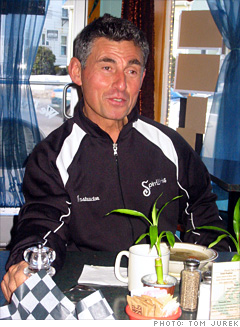 Vasconcellos, 57, owns Spin-Works, a cycling studio with two locations. He lives in Woonsocket.

We're all competing for a smaller dollar.
People are looking at [cycling] as disposable income, a luxury expense. Do they go out to dinner or do they take a class? Which one is going to make them feel better? The gratification of the food or the gratification of the endorphins they get after a good workout.
We're fairly new studio, so we're still growing. But our regular clients, we can already track that they are cutting back. Maybe instead of three times a week, they are coming twice a week.
Last updated April 14 2009: 11:21 AM ET
Email
|
Print
|

Digg this story
|

RSS