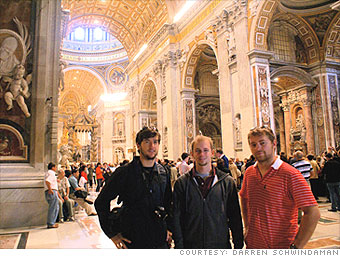 Darren Schwindaman (right) with his brothers Jeffrey (left) and Greg (center) at the Vatican.
Name: Darren Schwindaman, 25
Profession: Graphic designer
Location: Jackson, Miss.
"As a young, healthy sole proprietor, I no longer qualify for my parents' health coverage. But I can't afford the high monthly premiums.
A government-sponsored health insurance program, drawing from a large pool of people with low premiums, would be ideal. It would give me and other young creative professionals the opportunity to start a business rather than feeling like a corporate position is necessary.
Furthermore, I'd love to see a comprehensive program that encourages local commerce. Jackson is home to large government offices that are exempt from local property taxes. A public commitment from these government agencies to use local merchants and contractors would serve as a vote of confidence in our local business community.
Strong federal, state and local initiatives to help local business owners network with each other and build professional relationships would be helpful.
My girlfriend is moving here from San Francisco, and she's worried about the economy. But I tell her she's smart and talented, and from San Francisco. People down here are desperate for that.
I'm not feeling any cutback in business yet, and honestly that's because Jackson is so hungry for young, creative professionals. The area has been so underserved for so long that even with some people being nervous about spending money, there is still plenty of work.
There is such opportunity here for young, creative people of all disciplines."
- as told to Amy Haimerl
NEXT: The People's Bailout: Give each person $25,000
Last updated April 29 2009: 6:43 AM ET
Email
|
Print
|

Digg this story
|

RSS