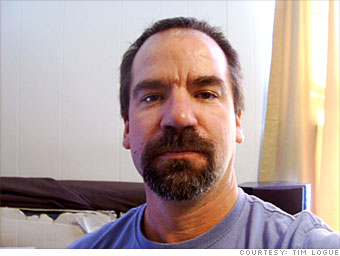 Name: Tim Logue, 42
Profession: Unemployed sign installer
Location: Knoxville, Tenn.
"I was recently on the receiving end of a sudden, unannounced business closure. One of the largest sign manufacturers in the country, ImagePoint (based in Knoxville), shut its doors on Jan. 9. We were a $160M company that had been in business for 65 years. And I have a wife and son to support.
I don't claim to know all of their finances, but we were unfortunate to have been dealing with one of the banks that failed: Wachovia. Now after installing signs across the country for seven years at dealerships for GM, Ford, Chrysler and others, I and 450 other people are out of work.
Luckily, the company had a lot of sign contracts and is trying to sell them to competitors, so I am hoping to be hired on by one of them.
I am looking forward to the new administration. Obama is a very, very intelligent man. He is focused on domestic issues. We need to mend ourselves.
I supported Bush (though until November I hadn't voted since the first Clinton election) because I thought his foreign policy was what we needed at the time. But now we need someone that is willing to roll the dice and get this economy going again.
We do not need to all receive $500 checks. We need to have the government invest in the work ethic of the American people. We need some projects that will put folks back to work and repair our interstate infrastructure at the same time.
We need to get money flowing to the innovative sectors in this country that can put us on the course to cleaner energy both for our homes and the automobiles that we drive.
We need someone that is going to convince folks that tough decisions are going to be made with some major sacrifices required from most of us. I believe President-elect Obama will be this man.
Given the opportunity, his type of vision will pave the way for a direction this country must take. We must. I believe President-elect Obama will be able to put this economy back in the positive, which will benefit you, me and every other hard-working American."
- as told to Amy Haimerl
NEXT: Lower corporate tax rates
Last updated April 29 2009: 6:43 AM ET
Email
|
Print
|

Digg this story
|

RSS