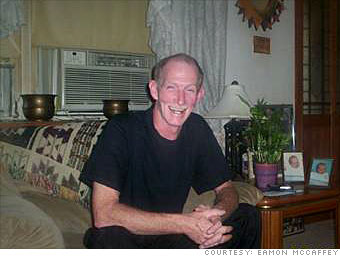 Name: Eamon McCaffery, 47
Profession: Union carpenter
Location: Philadelphia
"I've been out of work for nearly four months because the banks are not lending to developers, so developers are not hiring anymore.
I have a lot of debt from my family's medical bills, and I want to take money from my retirement account to pay off my debts. But there's a 10% penalty if you withdraw your money before age 59-1/2.
I want President-elect Obama to take away the penalty that happens when you take out money you've saved in retirement accounts. With the way that the economy is, it'd be easier to let us go get it without all the restrictions. Why should there be those roadblocks? It's red tape over red tape.
I'm being charged 28% interest on a credit card, and that's way too high. Obama should reduce interest rates that lenders can charge. Reducing what the people owe to these lenders will help them keep more of their paycheck, thus saving an enormous amount in very high interest rates. The banks won't like it, but it is better than the alternative - bankruptcy."
- as told to Laura Moscrip
NEXT: Fix the Small Business Administration
Last updated April 29 2009: 6:43 AM ET
Email
|
Print
|

Digg this story
|

RSS