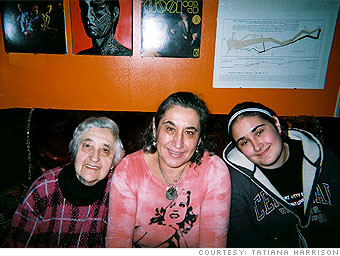 Tatiana with her mother, Fania (left), and daughter, Isa (right).
Name: Tatiana Harrison, 55
Profession: CEO, Cyber-Dogs Internet Cafe
Location: Seattle
"I lost my job and my house in the last recession of 2002. My husband and I ended up getting a very inexpensive house, but because our financial circumstances were bleak at the time, we got a very bad loan with a balloon coming up next year. We are really worried about our ability to get any kind of loan when the time comes.
But I am extremely excited about Obama's presidency. On the day of the election, I broadcasted his speech out on the street. The minute he won, my beer got really cheap, and I was open all that night! We had enormous crowds right in front of my cafe, probably half of them were my customers, and I never got so many hugs in my entire life. It was the most exciting political moment in my whole life!
So I hope that Obama will stop bailing out big, inefficient businesses, and instead let new, more robust businesses emerge. Ones like mine. After I lost my job as a software engineer, a partner and I struggled to open a vegetarian hot-dog cart. I had been interested in a health fast-food option since the '70s.
Eventually the bureaucracy was too much, and we dissolved the partnership. But I went on to start up Cyber-Dogs, my Internet cafe, bar, music venue, server of veggie dogs and more. Both my mother and daughter work there with me.
Even though I'm a business owner, we're just getting by. Still, I don't want to see any rebate checks.
Instead, let's fix our failing infrastructure and give people jobs in the process. Let's fix our roads and bridges, let's do more public transportation, particularly trains. We are so behind all the other civilized countries in the world. Even Russia is way ahead of us in public transportation area!"
- as told to Amy Haimerl
NEXT: Hiatus on early withdrawl penalties
Last updated April 29 2009: 6:43 AM ET
Email
|
Print
|

Digg this story
|

RSS