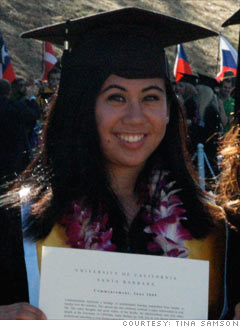 School: University of California at Santa Barbara
Major: Political science; communications
Current town: Santa Barbara, CA
Job: PR account coordinator; tech sales
Previous status: PR assistant; tech sales
Tina Samson hasn't been able to find a full-time job. But she's OK with that.
Samson has held down two part-time positions in the six months since graduation, and she was promoted at one job while continuing to work from home half of the day for the other. She telecommutes 20 hours a week doing product sales for eFORCE, a tech services company, and works about 30 hours a week at public relations agency Christie Communications.
To her surprise, Samson's recent six-month review at Christie included a a promotion from account assistant to account coordinator in charge of her own clients. She'll still be part-time at Christie, working for eFORCE at home in the mornings.
"Right now I'm really happy with the mix," Samson said. "I made a point to meet with the [Christie] CEO, and I do extra things to help the company -- like finding new clients. They can see I'm enthusiastic about the long-term growth."
Samson's work with eFORCE is also going well, as she has set up meetings with many prospective clients. And she's got plenty going on after hours; she recently enrolled in yoga, salsa and cooking classes.
"I used to just go home and sit around, which put me in a funk," Samson said. "A weekly routine makes me feel good, like when I was a busy student."

NEXT: Laryssa Wirstiuk - Employed (part-time)