Luxury hotels are defaulting on their loans as the economy kills off business travel. But what is ailing the hotel industry is good for consumers as room rates fall.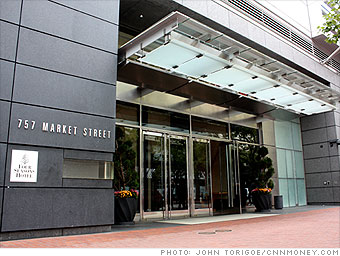 Location:
Downtown San Francisco
Stars:
5
Labor Day Weekend rate:
$325
A skyscraper topped off in 2001, this luxury hotel has rooms with floor-to-ceiling windows displaying stunningly beautiful cityscape and bay views. It's well located for business travelers, with nearly all the major financial district building within walking distance, as well as pleasure travelers.
Within a few blocks are museums, like the Yerba Buena Center for the Arts, shopping around Union Square, eating in Chinatown, and attractions like the Old Mint. A three-minute walk down Market Street is the terminus for the Powell Street cable car line that takes visitors to Fisherman's Wharf.
Default:
The owners, Millenium Partners, defaulted on the hotel's $90 million loan to force a renegotiation in the terms of the note, according to John Fox, a vice president with PKF Consulting, an advisor to the hotel industry. The operations of the hotel have been unaffected.
NEXT: The Stanford Court