In Framingham, Mass., local businesses are struggling through the recession. We talked to dozens of entrepreneurs for a look at the future of Main Street.
Jewelry sales down, coffee sales up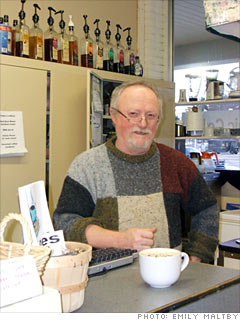 Paul Ashton, owner
Annie's Book Stop
Located in the Nobscot Shopping Center at the north end of town, Annie's isn't doing too badly. The main problem, says Ashton, is not the economy. It's that the main attraction of the shopping center - a supermarket - went out of business years ago, and the spot remains vacant.
"It doesn't help to bring in new customers. People think that just because the supermarket isn't open, nothing else is, either," he says.
Those who are aware he's open are staying loyal. Many of the store's regulars know each other and have developed a community around Annie's coffee counter. The down economy won't keep them from their daily ritual.
Ashton says that his second-hand book and coffee sales have actually increased in the first months of 2009. But sales of handmade jewelry and artwork by local artisans have dropped significantly. Ashton sees a correlation between those sales and the economy - customers view them as luxury items. But by relying on his core businesses, Ashton believes he'll be able to ride out the recession.
NEXT: Ready to close