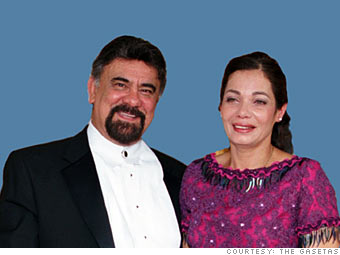 Roberto and Nubia Gaseta, owners
Party Flowers / Gaseta Foto and Video
Roberto takes care of the photo and video business while Nubia runs the flower business - but neither shop, which share the same storefront, has been seeing customers in recent months.
"People are afraid to spend money," Nubia says.
There's also a larger problem, she acknowledges: Many Framingham residents don't come downtown, a trend that has accelerated as more Brazilians open businesses that give the impression of catering primarily to other Brazilians.
"I will deliver flowers and when they open the door, they say, 'Are you new?' I say, 'No, we've been here for 12 years,'" she says. "The problem is people don't know we're there because they are not attracted to the stores. We need to bring back the population to the downtown."
To remedy the problem, the Gasetas and a group of other business owners formed an association to work collaboratively with the town hall to rejuvenate the area. Its top priority is making the downtown storefronts more appealing to non-immigrant Americans. The momentum of the group has picked up, but business hasn't.
"Valentine's Day was disappointing," says Nubia. "But we can keep the business open for the time being, and I have hope that things will get better, especially now that we're all working together."

NEXT: A landmark business shuts down