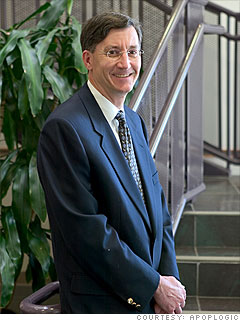 ApopLogic Pharmaceuticals
Aurora, Colo.
Richard Duke is a tenured faculty member in the department of medicine and immunology at the University of Colorado Cancer Center. He is also a serial entrepreneur. His current startup is ApopLogic Pharmaceuticals, which he cofounded with six other scientists at the Cancer Center. Duke is the company's CEO and a two-time recipient of Small Business Innovation Research (SBIR) grants -- the federal grants that help commercialize technology developed by research or academic institutions.
ApopLogic is focused on developing and selling a treatment for cancer using a protein known as Fas ligand, which kills a variety of cancer cells. One big drawback: It's toxic to the liver. Duke and his scientific partners thought that if Fas ligand could be delivered right where it's needed, into a tumor, it might cause those cancer cells to die without harming the liver. Duke and one of his partners -- Jamie Modiano, a veterinarian -- devised a study that used Fas ligand to treat malignant melanomas in dogs' mouths. Five dogs were treated. A week later, the tumors had shrunk significantly and were removed; 80% of the dogs lived another two years.
Duke says he and his partners knew venture capital financing was unlikely. He instead applied for an SBIR grant to do a much larger clinical study on dogs. These grants are peer-reviewed by other experts in the same field -- the better your credentials and experience, the better your chances of getting a grant.
Duke and his partners received a $700,000 SBIR grant in 2006 to start the company, and have just applied for a Phase II SBIR grant. This time, they're asking for close to $2 million, which would pay for conducting detailed toxicology and pharmacology studies and manufacturing the product to meet FDA standards. Duke also got a grant from the American Kennel Club, for $200,000.
"My desire is to get this into humans, but it could also help dogs," he says. "In biotech, you have to be flexible and adaptable."

NEXT: Training staffers to lead