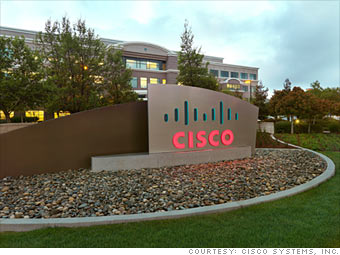 2010 Best Companies rank: 16
Current openings: 595
45% are in Cisco's engineering and design organization, with job roles requiring networking, software, and/or electrical engineering expertise. 25% are in services, with roles for engineers (advanced and technical services) and project managers. Most opportunities are in sales, finance, marketing, IT, manufacturing, supply chain and HR.
What are you looking for?
First and foremost, strong collaborators. Candidates should have a focus on execution; they should be able to accelerate delivery of a product or project in a manner that meets quality standards while emphasizing speed and impact. We look for people with a track record of continuous learning who have been innovators -- and even disruptors -- within their respective disciplines.
Any secrets to impressing your recruiter?
Know the needs of the organization for which you're applying. Listen well and ask good questions. Chances are, if a candidate is being interviewed, Cisco already has a sense that he or she possesses the requisite knowledge, skills and experience. The interview team is assessing "organizational fit," and whether the candidate will be successful leveraging his [abilities] to make a sustainable impact.
--Interview with Jennifer Ho, HR communications manager
NEXT: Whole Foods Market
Last updated January 25 2010: 1:37 PM ET
*Number of job openings as of Jan. 13, 2010.