Prices for art, antiques, and fine wine are still down significantly. They probably won't beat stocks long term - but they're a whole lot more fun to own.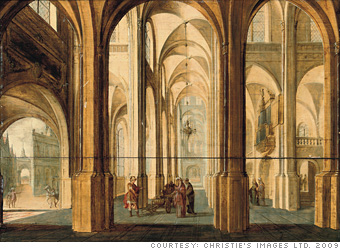 What: 1640 oil painting by Hans Juriaensz van Baden
Sold for: $4,905 in October
Art market: down 35%
Minimum investment
: $4,000
The scoop
: While investment-quality drawings and paintings aren't exactly cheap, they're a better deal than they've been in several years. The 32.5% drop in the Mei Moses Fine Art Index for the first three quarters of 2009 was steeper than in any year since 1991, says Michael Moses, who co-developed the index.
What to look for
: Experts say some of the most undervalued paintings are those by the Old Masters: Europeans from the 14th through the 18th centuries. They include Raphael and Rembrandt (whose work can fetch up to $50 million) but also lesser-known names such as Bugiardini and van Baden (whose oil pictured here recently sold for less than $5,000). These artists didn't produce just portly-man-in-wig portraits, but also atmospheric landscapes and scenes from daily life with an almost impressionistic feel. Your taste runs more to modernists such as Matisse or Picasso? Their paintings may run into the nine figures, but a good-quality Picasso drawing can be had for $40,000.
How to buy
: Follow the same strategy you would for
prints and photographs
.
NEXT: Fine wine