Prices for art, antiques, and fine wine are still down significantly. They probably won't beat stocks long term - but they're a whole lot more fun to own.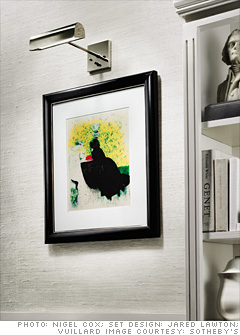 What: 1899 Édouard Vuillard lithograph
Sold for: $5,938 in October
Print/photo market: Down 10% to 40% from peak
Minimum investment
: $2,000
The scoop
: Prints (such as etchings and lithographs) and investment-quality photographs are often cheaper than paintings and drawings because they're produced in multiples. Experts estimate that overall values are down anywhere from 10% to 40% from the peak.
What to look for
: Photographs by masters of the 20th century such as André Kertész or Helen Levitt, who aren't as well known as, say, Henri Cartier-Bresson. Their work is often more affordable; several good-quality Kertész prints sold at auction last fall in the $5,000 to $12,000 range. And the number of collectors interested in them is growing, says Stephen Perloff, editor of
The Photograph Collector
newsletter. As for prints, you can find especially good values now on works by some late-19th-century and early-20th-century American artists such as Mary Cassatt and Romare Bearden, says Adam McCoy, associate specialist in the print department at Christie's. Make sure the condition is good, with no fading or staining. (Auction houses describe an image's condition online.)
How to buy
: If you purchase from a dealer, you'll probably pay a markup of about 40% to 50%; in these slow times, some dealers may be willing to charge less. Still, you generally get more for your money at auction. You'll pay a buyer's premium of 25% on the first $50,000, typically. Giants Christie's (
christies.com
) and Sotheby's (
sothebys.com
) offer the biggest selection; their photo and print auctions are usually held two to three times a year in New York City. Can't get to the Big Apple? Check out the goods on the auctioneers' websites, then bid by phone (or, at Christie's, online). Sign up for a free Sotheby's account to get access to artnet.com's data about previous sales prices. And set a price ceiling
before
you start bidding, so you don't go too high in the heat of the action.
NEXT: Antique furniture